Welcome to Springridge Construction:
30 Years of Home Renovation
Springridge is a family owned and operated business with over 30 years of experience in the residential construction industry. Our business has the expertise and knowledge to work on any renovation in order to give your home a fresh and welcoming look, with a guaranteed clean, timely, and accurately-estimated job, every time.
Our Work
We understand the value that comes from every detail in a home. Springridge Construction will work with you to find the most effective updates to your home, whether big or small. We offer in-house design and custom floor plans to assist you with making the right choices to fit your...
Our Promise
Our team is made up of skilled and dedicated tradesmen who always strive to produce top quality workmanship. Our sites are kept clean and safe, and we try our best to create as little disruption to you and your home as possible.
Our Experience
With over 30 years of experience, we have the skills and knowledge you can trust to make your home exactly what you want. Learn more about Springridge Construction here.
GET A FREE QUOTE
Call us today at 604 462 0204 to book your ESTIMATE!
Today we've got this heartwarming testimonials from Mike:
"I hired Springridge Construction for a facelift on my home. New windows, vinyl siding, stone work and a redesigned front entry.  I got several quotes and hired Springridge Construction based on their demonstration of knowledge, their competitive price, and their nature as a small, family business.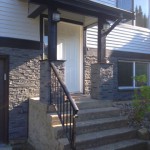 Every person on the team was very friendly, respectful, and I was very pleased with the quality of the finished work.  They have a very positive "yes we can" attitude and all the minor details I wanted addressed were resolved to my satisfaction.  I never got the impression anyone was cutting corners or that the team was resentful of the many requests I made during the course of the project.  I would recommend them to anyone who is looking to do a quality renovation and wants minimal stress with a personal touch. 
 Mike G – Coquitlam
May 2015″
Hear from our clients:
"I feel so lucky to have found Chuck and Matt from Springridge Construction to finish the basement area of my home. Matt gave me a detailed contract and stuck to the price. Chuck even did the drawings for my permit which was an enormous help for me. Very good communication along the way and they listened to all my concerns and picked out all my finishings according to my personal taste. I pretty much left everything in their good hands and the result is beautiful! Superb craftsmanship. Two really great guys who know their business and will do the job right for you." - Ruth Healy Maple Ridge, BC